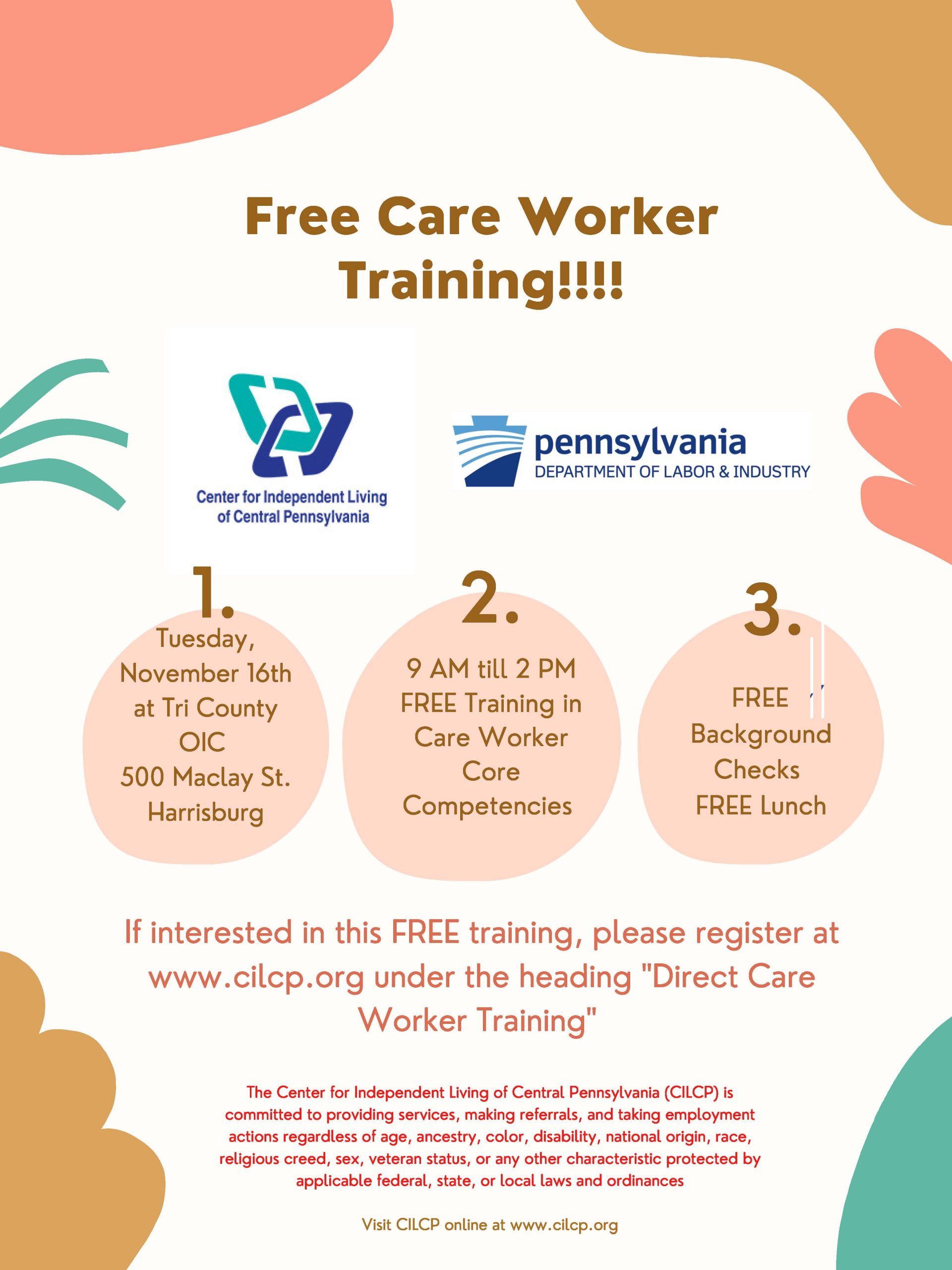 Direct Care Worker Training
Date: Tuesday, November 16, 2021  
Time: 9:00 AM – 2:30 PM
Where: Tri-County OIC 
Address: 500 Maclay Street, Harrisburg, PA 17110 
Cost: FREE (no cost or fees)
Who: This training is open to all OIC students, clients, and members in the Dauphin, Cumberland, and Perry Districts
Tri-County OIC is committed to helping members of our community. We address educational and workforce needs through adult education and unique training experiences. With proper education and training experiences, our members of the community will feel empowered knowing they have professional credentials and certificates to help them succeed and secure a job in the workforce. 
Information about the training: The Direct Care Worker training is on-site training at Tri-County OIC. We offer this training to any adult 18+ with or without a GED. Nathan Taraska, Training Specialist for Center for Independent Living of Central Pennsylvania (CILCP), along with his team, will conduct a one-day training that will run for 5-hours. 
During the training, breakfast and lunch will be served. 
All materials for learning will also be provided for the students.
Students will learn about concepts necessary to succeed in the field of direct care work. They will become knowledgeable about the ins and outs of providing proper care for homebound residents who may be unable to perform their daily routines without the assistance of a direct care worker. 
After the training, students will receive information about how to access free background checks and clearances needed for Direct Care Work. There will also be an opportunity for students to meet with real employers until 3 PM for interviewing and discussing potential job opportunities. 
For more information, please contact: 
Alexis Vang, M.S.Ed. 
ESL instructor and Counselor
phone: (717) 450-7282
email: avang@tricountyoic.org
pronouns: she/her/hers