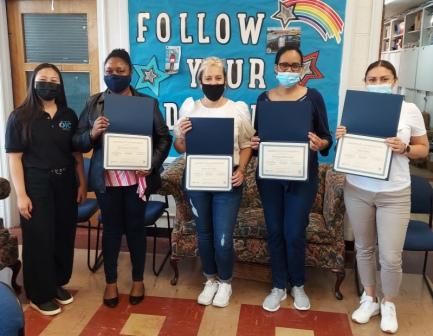 Students Received Direct Care Worker Certificates


Congratulations to (pictured left to right) Memouna Karambiri, Diana del Valle, Wezenet Mehbrahtu, and Ines Nares who recently received their Direct Care Worker certificates of training from the Center for Independent Living of Central Pennsylvania (CILCP). Also pictured is Alexis Vang, ESL Instructor.
On Tuesday, June 15, 2021, CILCP conducted on-site Direct Care Service Training at Tri-County OIC, 500 Maclay Street, Harrisburg, PA. Nathan Taraska, Training Specialist for CILCP, along with his team, conducted a 5-hour training. During the training session students learned the fundamental concepts needed to become an entry level direct care service worker. The students were eager to participate in the direct care worker training in which they learned about the ins and outs of providing care service for homebound residents who are unable to perform routine daily activities of living without assistance.
CICLP staff made the students welcome by offering training in a small comfortable environment. They also provided a lite breakfast and delicious sandwich from Jimmy John's for lunch. In addition to the great food, all the training materials and study resources were provided.
At the end of the training session, the students participated in a Q&A session. During the Q&A session, other CICLP employees, including direct care workers (one of whom was a former OIC GED graduate) employed for service agencies gave insight to what it meant to be a direct care worker and what the work involved.

The following day, the students' teacher, Alexis Vang, practiced mock interviews, prior to attending a Direct Care Worker hiring event at OIC. What an experience! Everyone agrees that the training was a great success.
At OIC, we provide new opportunities for clients of diverse backgrounds. We take measures to prepare our students for higher education and the workforce.
Through our offered educational programs, training, and hiring events, we provide a streamlined pathway that prepares our clients for success. Our students with language barriers are supported through our ESL classes, before sending them through training to enter the workforce.
We believe in supporting these students as they reach their goals to improve their English language use and overcome their fears.
If you are interested in the next Direct Care Worker training at OIC contact Alexis Vang at avang@tricountyoic.org.